What is animated drawings from Meta AI research?
Animated drawings presented by Meta Ai research let you turn a simple drawing into a range of animations in a few minutes.
How to animate a drawing using Meta AI research tool?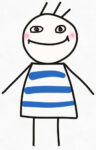 1. Prepare a drawing of a character in a natural standing pose. A photo or a painting of a person probably would not work.
2. Go to https://sketch.metademolab.com/, click "Get Started " button.
3. Click "Upload Photo" button. Select the prepared character image from your local machine. Click "Next".
4. Click "Agree" button at "Term of Service" page.
5. Adjust the area of your character. Click "Next".
6. Click "Next" to use default in pages.
7. You can see your character is running.
8. Select other animation to apply to your character. Download the animation.